Only have one week to explore Southern Vietnam? We got you covered. See our travel itinerary below, for Vietnam trip guides and advice so you can get the most out of limited time in Vietnam.
What to expect: Spend a few days in the bustling city of Ho Chi Minh City (Saigon), Vietnam with a retreat for a couple days to the Mekong Delta.
The Basics
Currency: 1 USD = 22,200 VND; 1 EUR = 24,100 VND
Requirements: Visa required on arrival.  You have two options:
Get a Visa from your country's Vietnamese Embassy or Consulate office.  Expect this process to take 2-3 weeks (if by mail) or 2-3 days (if in person). You will be required to submit a permit form, two passport photos, your passport, and the Visa fee. While this process requires advanced planning, it will save you at least an hour getting through immigration in Vietnam.
Get a Visa on Arrival. Use a trusted site like http://www.myvietnamvisa.com/ to obtain a visa approval letter online (within 3-5 days) that you can bring on arrival in Vietnam to acquire the visa.  Opt for this method only if planning a last minute trip, as you will potentially have to wait in a very long visa line on arrival.
Transportation: Public bus travel is extremely affordable, though expect language barriers. Write-down where you're going to show the driver. Metered taxis are available everywhere; Mai Linh and Vinasun are the most common and reliable.
Etiquette: Tipping is not common in Vietnam, though it may be expected by tour guides (50,000 – 100,000 VND depending on length of time spent). Restaurants will add a service charge in place of tipping.  Avoid insulting locals: do not leave chopsticks in the bowl at the end of your meal.
Days 1-2: Ho Chi Minh City
Why Ho Chi Minh City:

A better question to ask yourself is why not?  Ho Chi Minh City (HCMC)-formerly known as Saigon-is an energetic mix of old and new. The largest city in Vietnam, its metropolitan area is home to more than nine million people and almost as many motorbikes (at last count, the number was seven million). It can be overwhelming at first, but if you hang on long enough, you're guaranteed to have a good time.
Getting there:

Planes, trains, buses and automobiles can take you directly into the city. HCMC's Tan Son Nhat International Airport is located  4 miles (6 km) north of the center (District 1). You can also get to Vietnam overland from Laos, Cambodia or China. A great resource for overland travel to Vietnam can be found here.
Where to stay:

There are heaps of places to stay in HCMC that range from budget/ backpacker accommodations to luxurious 5-star hotels. We tried to mix it up and stay at the budget end our first couple nights, and splurged with fancy digs at the end of our trip. Some of our recommendations include:
Where to eat/drink:

As with many Southeast Asian big cities, the best food can be found on the street. We spent most of our time in District 1, and there's no shortage of street vendors selling everything from classic banh mi sandwiches to sizzling hot bowls of pho. 
There are also a number of food options inside the Benh Thanh market, which serves up everything from fresh fruit smoothies to bo la lot, a seasoned beef wrapped inside a leaf.

What to do:

What to do: Go on a street food tour! A highlight of our time in HCMC was organizing a street food tour through Back of the Bike Tours. There are several companies that arrange food and city sight tours, but after some research, we concluded that Back of the Bike is one of the best. A bit about the experience: Be picked up at your hotel/guesthouse by young, local guides, strap on a helmet and get comfortable! Be prepared to cruise through the bustling streets of HCMC– legs tucked close to the motorbike–and make stops at delicious food stalls around the city. Sample cuisine from a variety of districts, try your hand at cooking alongside roadside chefs, and push yourself outside your culinary comfort zone. Food highlights on this tour include:Goi du du bo: julienned green papaya salad topped with Thai basil, dried beef liver, toasted peanuts and prawn crackers. Sauced with chili, light soy sauce and vinegar.

Banh canh ghe: ocean crab soup with tapioca noodles, pork rinds, fried fish cake and green chili sauce.

Banh xeo: crispy rice flour "crepe," stuffed with shrimp, pork and bean sprouts. Served with fresh lettuce and sweet fish sauce.

Other things to note: bringing personal devices (including large cameras or cell phones) is strongly discouraged, as motorbike pickpocketing is fairly common. We had a hard time leaving our cameras behind, but the guides at Back of the Bike have a dedicated cameraman that travels along with each tour, and will snap photos throughout the evening! They sent us some fun shots afterwards of us sampling different food, and cruising around on the motorbikes. Heed their advice, and leave your camera back at your hotel. They'll take care of all the photos!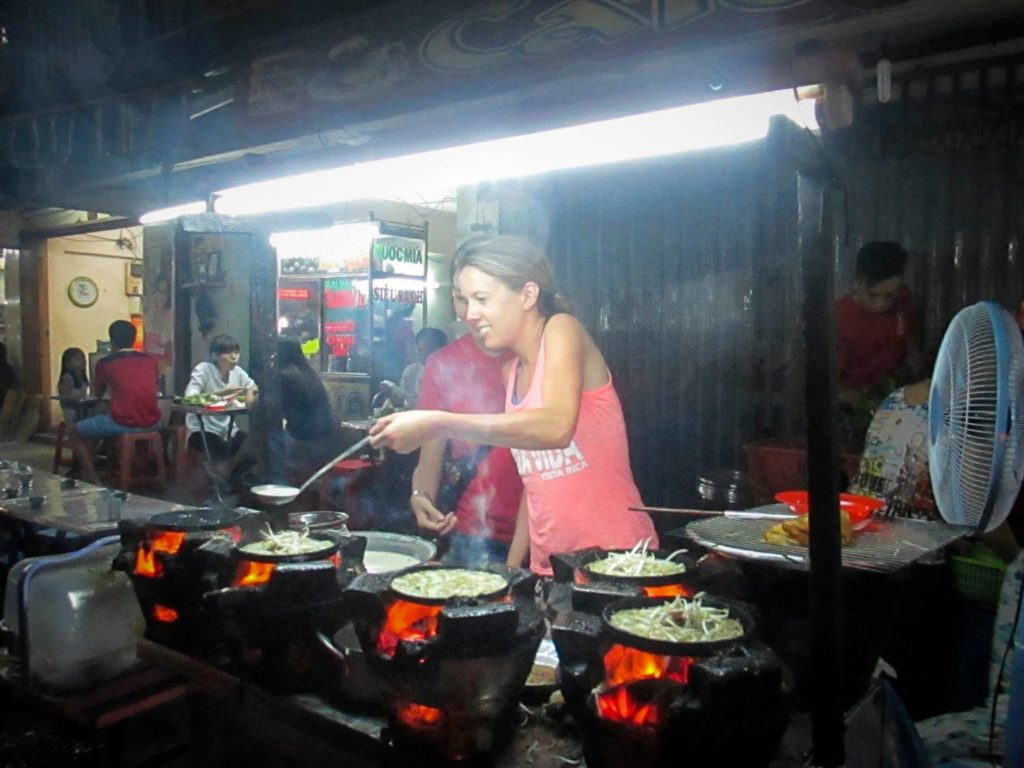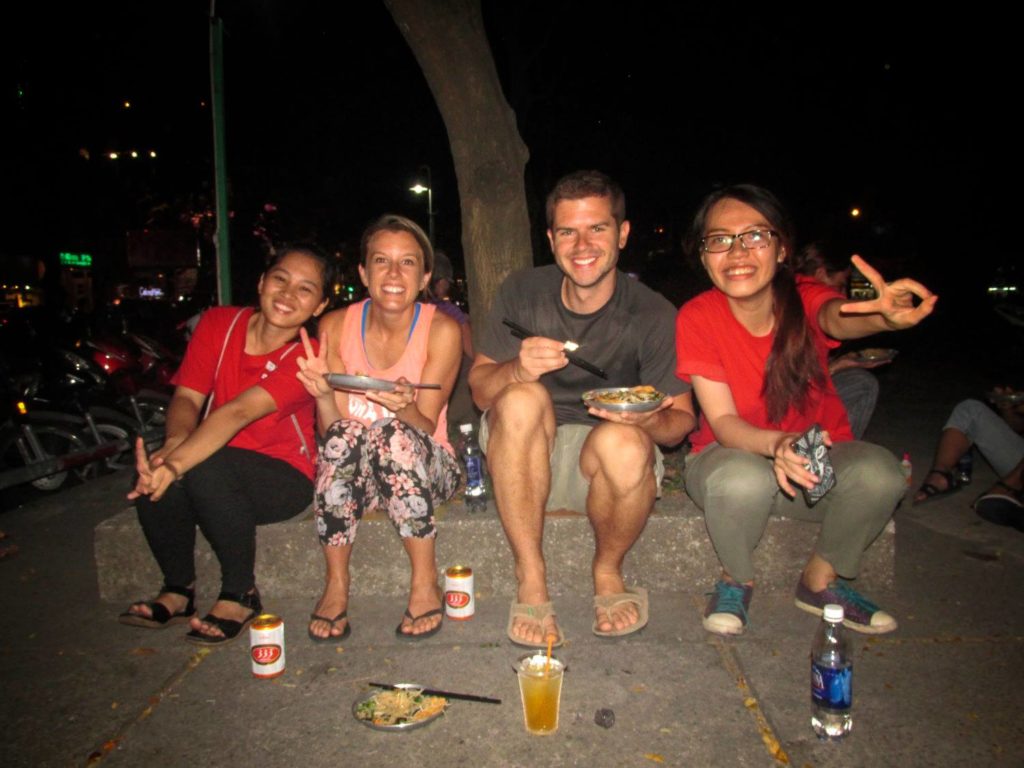 Days 2-4: Mekong Delta
Why the Mekong Delta region:

Because why not?! This area offers the perfect escape from the hustle and bustle of HCMC. If you're interested in unwinding somewhere with river views, or bicycling around the rural countryside, a trip to the Mekong Delta is for you.
Getting there:

Since we only had a couple days to spare, we opted to visit Mỹ Tho, one of the more easily accessible towns in the Mekong region. Mỹ Tho is an important market town, and is considered to be the gateway to the Mekong Delta. While it doesn't have quite the same reputation as towns like Can Tho or Cai Be (famous for their floating markets), we found it to be a perfectly relaxing way to spend a couple days outside the city.
Where to stay:

As this was the end of our trip, we decided to switch things up a bit. Instead of selecting a budget guesthouse, we opted to spend a bit more on some luxurious digs. How satisfied we were with this decision! The desire to "treat ourelves" led us to booking two nights at The Island Lodge, a boutique eco-lodge located just along the Mekong River.  The lodge is beautiful in every way. The open air concept throughout the lobby and dining area means that there isn't a door or wall in sight to obstruct your view of the river and the lodge's beautifully landscaped gardens.  The lodge oozes luxury in every sense,  so be prepared to relax!
What to do:

On day one, we rented bicycles from the hotel and explored the surrounding countyrside. This was definitely a highlight, as we were able to slowly cruise around and observe the local life around us. There wasn't a whole lot going on on the back country roads, but this is precisely the kind of slow pace we were looking for! We did some photography in town, and biked our way home later that afternoon.
On day two, we booked a boat tour through the hotel. We had expected a boat full of people when we were picked up in the morning, but it ended up being just the two of us, a local guide and our boat captain. How intimate! We set off along the Mekong River, making a couple stops at various tourist attractions along the way.

Highlights: Our favorite part was hopping into a sampan and boating through a series of narrow canals. Note: a sampan  (meaning "three planks") is a flat-bottomed wooden boat used for transportation through rivers or other costal areas. Sampan boats are typically propelled by oars or a pole (yuloh) and are common in rural areas of Southeast Asia, such as Vietnam, Malaysia, and Indonesia. This part of the tour was definitely the quintessential "Mekong River experience" we were looking for.
Lowlights: Getting dropped off at an "island" where we could sample "local delicacies" and then be passive aggresively asked to buy everything with which we were forced to sample. Tourist touts can be awkward, annoying or just plain uncomfortable. We felt guilty after politely declining (for the 10th time) to purchase "locally made" over-priced honey, and after a while, the solicitations left us deflated.
All in all, a visit to the Mekong Delta region is a rewarding experience, and worth the effort! If you can spare a couple days outside Ho Chi Minh City, do take the time to explore the area. Had we had a couple extra days, we would've loved to visit the floating markets of Can Tho, and perhaps arrange a homestay with a family in the area. All of that for the next trip to Vietnam!